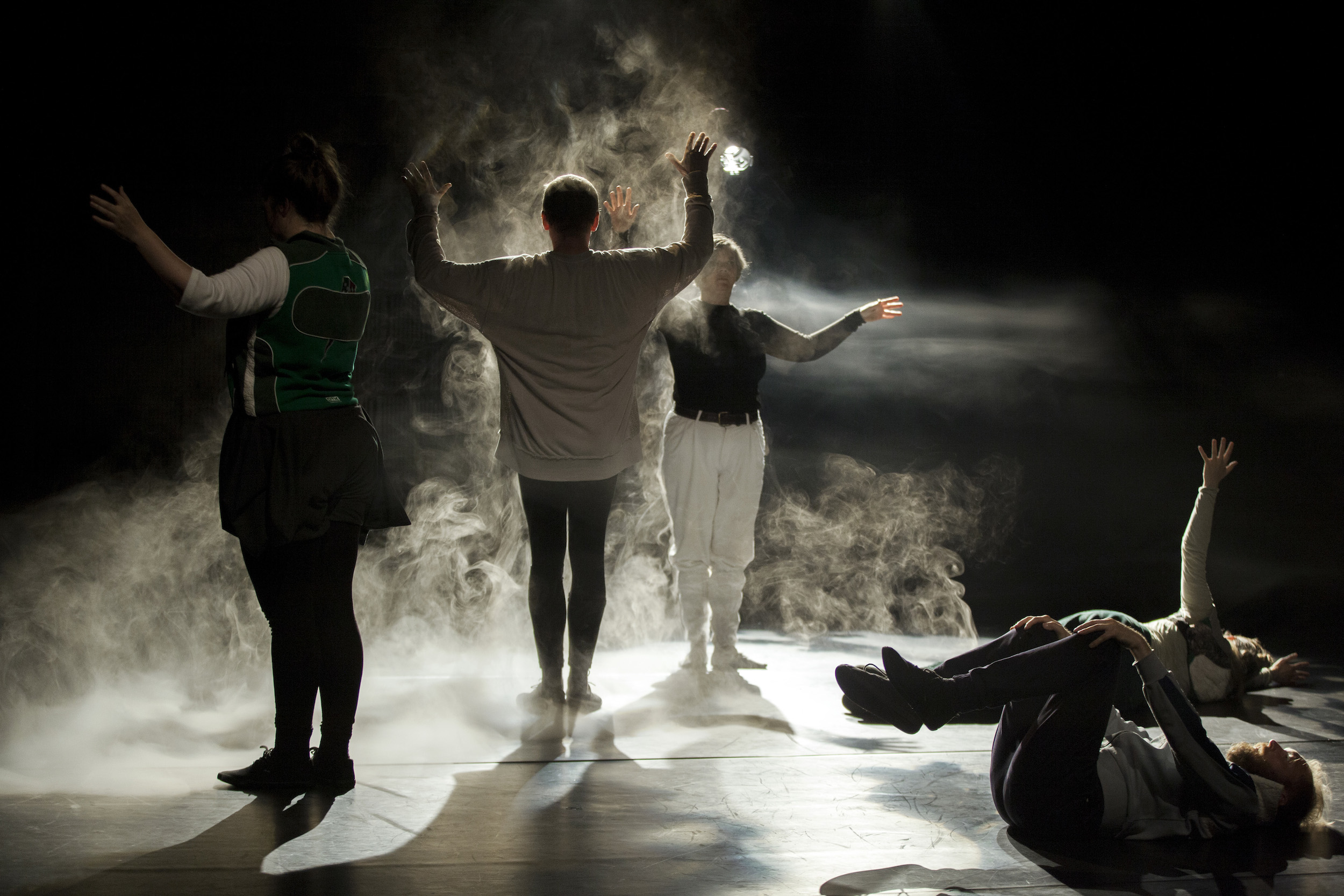 20.1 at 19.00
Helsingin Feministinen Salaseura (FI): Treffit 2.0
The Feminist Secret Society of Helsinki (HSF) is an art collective interested in feminist issues. The HFS produces performances and other output in varying ensembles, this time in Finnish.

25.1 at 20.15, 27.1 at 20.15
Mira Kautto (FI): House of no hope
House of no hope is a solo born from the desire of Helsinki-based dance artist Mira Kautto to spend time with the weltschmerz/melancholia that she has experienced for as long as she remembers.
7.-10.2 Wed-Fri at 19.00, Sat at 16.00
Nature Theatre of Oblivia (FI / DE)
Nature Theatre of Oblivia is a live performance and an augmented reality (AR) work, where Oblivia creates a Finnish forest, its plants and animals on stage. Oblivia is known for its unique practice that merges the boundaries of genres creating minimalistic, philosophical and funny performances.

15.-17.2 at 18-21 (The audience is welcome to enter and exit the performance freely. Free entry.)
Katri Kainulainen & Maximilian Latva (FI): Globus Hystericus
LIST OF PHOBIAS is the performance art project by artists Katri Kainulainen and Maximilian Latva in 2018. In Mad House we experience the three day long globus hystericus (the sensation of having "a lump in the throat", a classic sign of hysterical neurosis, and a psychosomatic disorder that suggests a physical problem but is actually an expression of a psychological conflict or need).
23.-24.2 at 19.00
Antti-Juhani Manninen (FI): Assholes
Assholes is sincerely naive performance by Turku-based puppetry artists. It leaves all the room for the performer - a human being that uses its body and voice - with objects, materials and puppets. It is like a light and merry state of continuous change, a sort of multidimensional gift, a soft package from a longing lover to another, from us to you.

28.2.–2.3.2018
Kaiken keskus (SE/FI/AU/DE/NO): Constitutive Meeting of The AI Party (FI)
THE AI PARTY establishes a new political party led by an artificial intelligence. Bringing together artists, performance-makers, and AI researchers, the initiative will focus on the legal formation of an actual political party in preparation for a series of online and public events. Bases on concept by Bombina Bombast (SE), Kaiken keskus (FI), Triage Live Art Collective (AU/DE) & First Kiss Productions (NO)

8.-9.3 at 19.00
Niko Hallikainen (FI): Blue Exhaust *PREMIERE
Blue Exhaust is writer and sound designer Niko Hallikainen's first solo work that transforms the loneliness of a tired body into choreography that moves in sound and in language. The performance claims space for a shared song, to which all the lonely are dying. On stage Hallikainen is accompanied by Kristian Palmu's light design and a bunch of void.
16., 17., 20. & 21.3 at 19.00
Honkasalo-Niemi-Virtanen (FI): Nature Morte *PREMIERE
Nature Morte is a part of a series of works. The starting point was an ancient Iron Age water burial ground, Levänluhdan lähde, located in Ostrobothnia. In the performance, the Helsinki based collective Honkasalo-Niemi-Virtanen investigates the body and the face of a prehistoric being that has been unearthed in a lake, as well as the surrounding landscape.
18.1., 25.1., 1.2., 15.2. & 8.3.2018, every performance night at 18.15, 19.00, 19.45 & 20.30
Gnab Collective (FI): Hamlet private
Without stage machinery purely by the actor's own strength Hamlet private creates the play's world directly in the imagination of the spectator. Artist Martina Marti takes one spectator at a time to ponder Hamlet's big questions.

Tickets are on sale in lippu.fi >>>
Share: