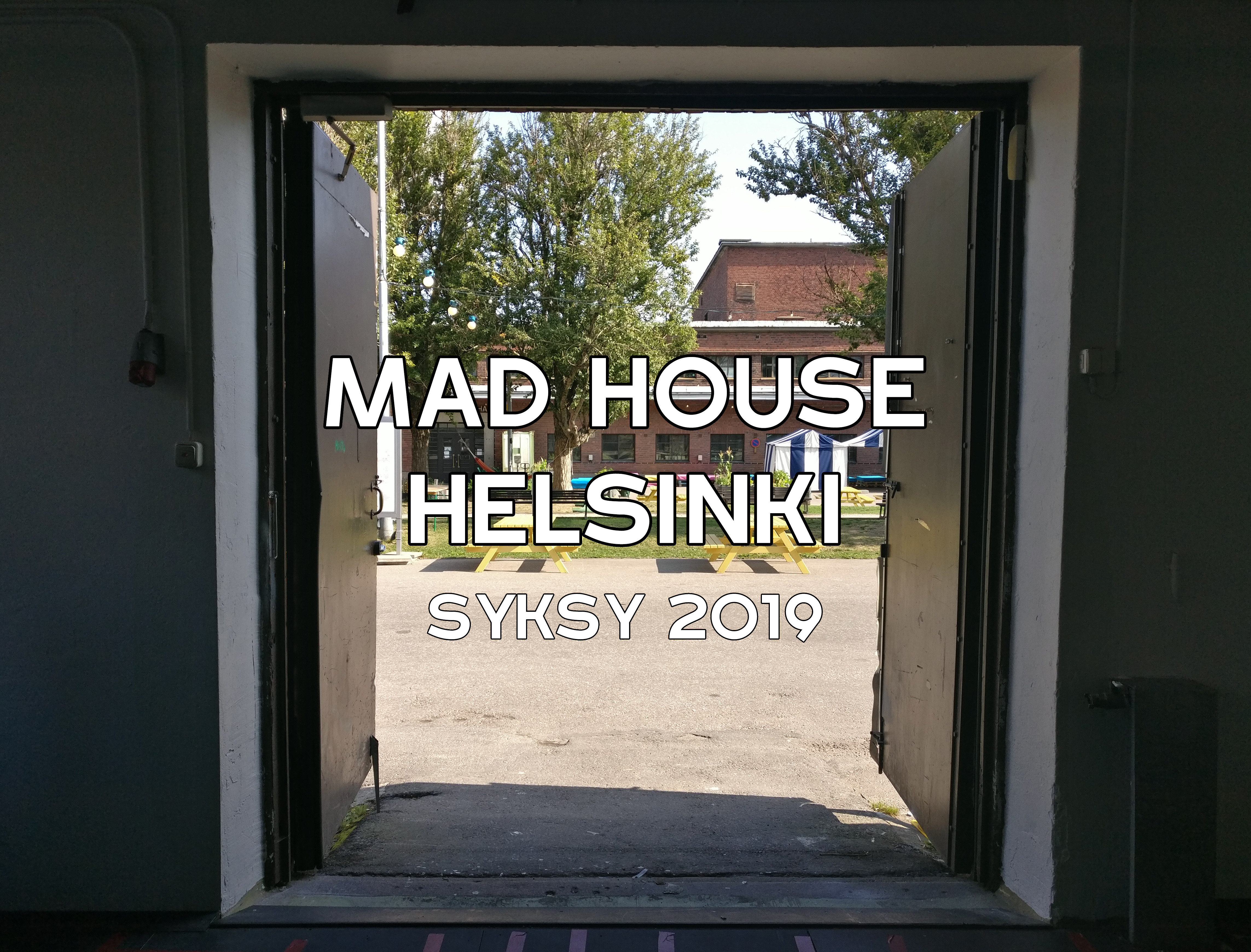 This fall Mad House Helsinki premieres works by Niko Hallikainen, Tellervo Kalleinen, European Theatre Collective and others. The new Mad House space in Teurastamo opens with Light & Easy by Oblivia in September. The program has been curated by Annika Tudeer, Heidi Backström and Emmi Vainio. At the new space Mad House will serve as a year round production platform for live- and performance art. Settling into a permanent place will offer a sustainable creative environment for artists, audiences and the Mad House organization.
"We've invited artists, whom we've worked with in Suvilahti during the past five seasons, to develop works for the new space. This exchange has led us to form new collaborations. Mad House's programing is not structured following a theme, it is a constellation of ideas and actions which stem from the work artists bring forth. Performing arts are keenly touch with present day events and the works we'll see this fall are linked together by the different artists efforts in redefining what it means to be human, coming to terms with death and the passage of time and efforts in creating spaces for personal expression."
The opening party will take place on 13th September. Doors open at 17:00. There will be live music, performances and good company. The event is free and open for all. More information to follow.
Falls season tickets available 28.8.2019 onwards https://madhousehelsinki.fi/pages/Tickets
See the program here
****
18.-19.9, 2.-3.10, 5.10 & 8.-9.11
Oblivia: Light and Easy
Light & Easy is a performance about time, death and loss, that is seizing and cherishing the moment. Light & Easy is also an homage to Oblivia's founding member Anna Krzystek, who died in a traffic accident in autumn 2017. Anna's sudden death shocked the company. The performance deals with the grief and is a step towards the time without Anna among us.
Oblivia, a Helsinki based performance company, was founded in 2000 and collaborates with national and international venues, festivals and artists exploring the world that we are living in through contemporary performance. The contact with the audience is at the core of the company's work.
13.-20.9
Jay Mar Albaos: Kato'ng Gipangsabwag Gikan sa Mga Langit – Those Who Were Scattered From the Heavens
Jay Mar Albaos explores growth as a form of existing. The piece consists of two parts: planting the seeds, growing them and the harvest celebration. This durational piece reflects such vagueness and temporality with regards to labor migration. In an age where moving to and from destinations in order to seek "greener pastures" is steadily shifting geopolitics and global ideologies, it is important that we consistently take into account labor migrants. In many layered ways, these bodies experience one of the most precarious existences there is.
28.9.
Kira O'Reilly: What if this was the only world she knew?
An installation, a performance, you can arrive and leave during any points of the three hours duration.
As day moves to dusk and night falls, a series of explorations will be made in the new old time space that is Mad House.
Kira O'Reilly is an Irish visual artist currently based in Helsinki. Her practice, both wilfully interdisciplinary and entirely undisciplined, stems from a visual art background; it employs performance, installation, photography, biotechnical practices, writing and anything that comes to hand with which to consider speculative reconfigurations around The Body.
9. & 11.-12.10
Niko Hallikainen: Television | PREMIERE
Television is a speech performance by writer Niko Hallikainen. The performance is an extension of an obituary written for a real person. The piece maps out alternative modes of narration as a means of survival. The premises of the piece are stability and security, which are also its ideal outcomes. The journey in between, however, is chaotic, risky and filled with serious dangers.
Niko Hallikainen is a performance poet. Hallikainen debuted his first solo performance Blue Exhaust at Mad House in 2018. In his speech performances, Hallikainen uses verbal language and musical textures to disrupt limits.

17.-19.10
Niemistö, Nyberg & Vahtola: A Point of No Return | PREMIERE
The starting point of the performance is the desire to explore the awareness of one's own death and abstract thinking: abilities that are often understood as specifically bound to humanness.
A Point of No Return is a choreographic weave of sounds that allows the collective memory of its performers unravel from words to tones and stories to abstraction. Covering centuries, the collected literary quotes filter through the performers' bodies, voices and memories, inducing a fragile composition that meets the alive and mortal human body.
23. & 24.10
My Name is Monstera
My Name is Monstera, assembled by Essi Kausalainen, is a performance for wind quintet, two primates, textile, and text in a mid-sized room. In the piece we'll meet with a mutating organism, open a dialogue with Carl von Linné's ghost, bathe in sound, and rename ourselves.
Performance is in Finnish. An English translation, and a visual description in Braille is provided upon request.
2.11
Hibernation: a sleepy party
Zuz Buchowska, Miranda Kastemaa and Mira Eskelinen want to create a different kind of space for queer people, whose only chances to meet each other are therapy groups or loud drag shows. Hibernation is a slow & gentle alternative to most queer parties. A space for the introverts, the dreamers, the awkward ones, the ones who don't like to dance, the ones who do but prefer their music soft & quiet, the sleepy ones who still want to spend time with their friends.
A hideaway from the darkness and loneliness of November, a cozy burrow with pillows, mattresses, ceiling projections, quiet DJ sets, and installation art.

15. & 16.11
Juha Valkeapää ja Biitsi: Juha Biitsillä
Juha Biitsillä is a piece produced by an artist, Juha Valkeapää, and a producer duo, Biitsi. It is an hour-long presentation of pictures, sounds, and gestures of everything we receive and convey, whether we like it or not.
The Biitsi duo makes music and performances. Hei Pykäri mikä meininki?! performance at G Live Lab caused a lot of confusion last year. Juha Valkeapää is a sound artist and performer whose works have been widely performed in Finland and abroad for over two decades.

28. & 30.11
Tellervo Kalleinen: For this dance, I will take the lead | PREMIERE
An audience gathers on a floor, ready for a dance evening. Each of the songs has been chosen by a different person, who will also lead the dance. They are people, whose experience in life is that they are too often led by other people. During this one song, the situation is different.
Tellervo Kalleinen is a contemporary artist working interdisciplinary. In many cases her work stems from creative collaborations with other artists and participators. Her work has been presented internationally, for instance, in Mori Art Museumissa (Tokio), P.S.1 (New York), KUMU (Tallin), KIASMA (Helsinki) ja Ars Electronica Cente (Linz). She works in close collaboration with Oliver Kochta-Kalleinen. The artist duo was awarded Ars Fennica and AVEK Award for media arts.
12.-13. & 15.12
Ana Teo Ala-Ruona: toxinosexofuturecummings
toxinosexofuturecummings is a bodyfiction about pleasurable sex on a polluted planet. It's a performance of a body creating itself through language. In the performance, sex is seen as an evolutionary and developmental process. It opens up a world in which materials and multispecies bodies infiltrate each other, giving and receiving pleasure. The world is thoroughly polluted, but possible, queer and trans.
The piece deals with environmental toxins, pollution, hormones and transition. The speech also includes sexual and pornographic content.

3.-5. and 8.12 & 16.-21.12
European Theatre Collective: Drivers | PREMIERE
Drivers discusses the experiences and the societal positions of immigrants in Finland through documentary theatre and fictional storytelling. The piece searches for possibilities to normalize the lived experiences of culturally marginalized people in Finland. It focuses on work and professional identity, which are considered important in Finnish society.
Drivers is the second part of the "Invisible Finland" trilogy produced by the European Theatre Collective, who seeks to foster the role of immigrants in Finnish culture and the art scene.
Share: