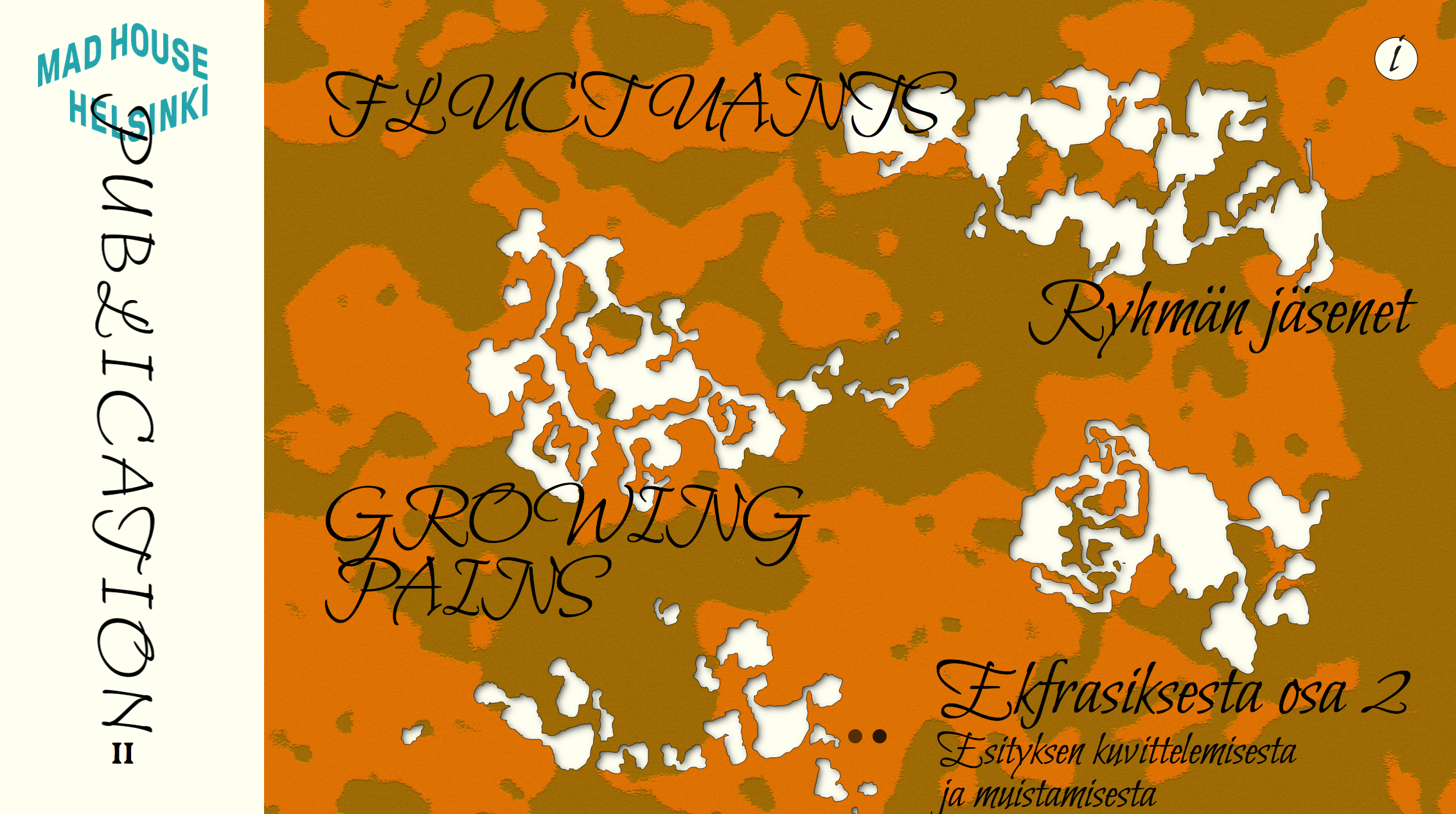 In the second issue of the Mad House Helsinki Publication, we bring together artists and readers from different cities, countries, and continents. It was created in a period during which performing arts was brought to a nearly complete halt for months, both in Finland and globally. The artists featured in the publication have all had to constantly adapt to ever-changing circumstances. Through the media of video, sound, drawing, painting, and text, artists Marcela Levi & Lucia Russo (BRA), the seassa collective (FI), Sebastian López-Lehto & Emmi Kaasalainen (FI & GER), and Renée Van Trier (NL) build fragmentary, layered, recollective, and tactile worlds for the readers to experience.
The publication is designed by Kiia Beilinson and Hanna Valle, coded by Santeri Räisänen and edited by Anne Naukkarinen.
The first issue was published in August 2020.
***
Mad House Helsinki Publicação #2 reúne artistas de diferentes cidades, países e continentes. Usando como médiuns - vídeo, som, desenho, pintura e texto - Marcela Levi & Lucía Russo, Coletivo seassa, Sebastian López-Lehto & Emmi Kaasalainen e também Renée Van Trier, constroem mundos fragmentados, remanescentes, imaginativos e corporais, para experiência do leitor. Design gráfico de Kiia Beilinson & Hanna Valle e web-coding de Santeri Räisänen. Curadoria e edicão por Anne Naukkarinen.
Share: