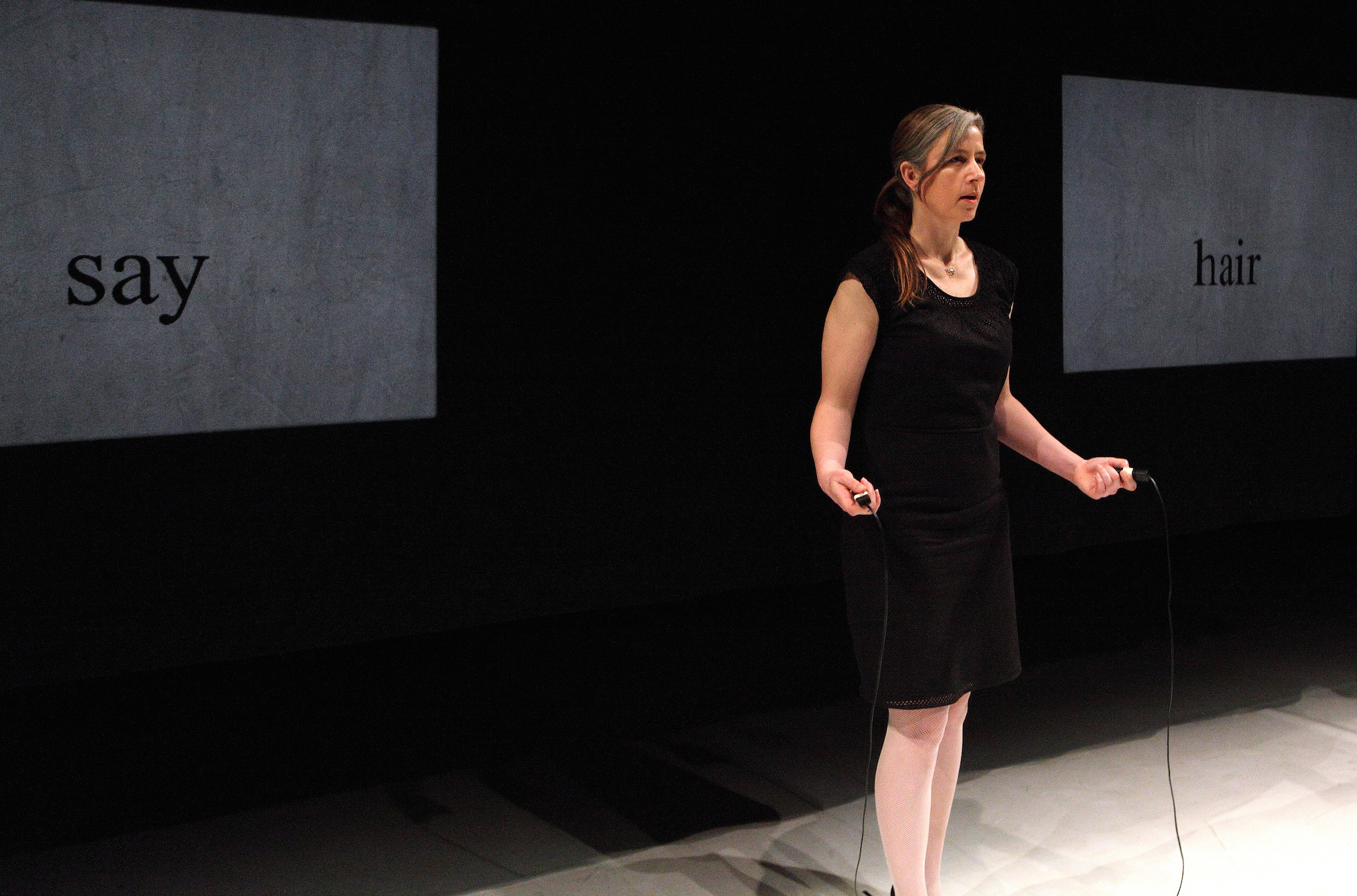 "For me, Mad House is an initiative and a structure that avoids being locked. Instead it is curious and haunting. This reflects on many issues and principles, such as the fact that Mad House welcomes both international and domestic artists each season. Our goal is to create colorful entities with a wide range of live arts and the voices in it, we want to see new and more established artists doing together, we want domestic and international to mix. Creating opportunities for meaningful collisions, acquaintances and impressions is, in my opinion, important." - Sonja Jokiniemi, member of the curating team*
18.-19.1 at 19.00
Every house has a door (FI / US): Scarecrow *PREMIERE
Every house has a door (founded in 2008 in Chicago) is a group by the internationally renowned artists Lin Hixson and Matthew Goulish. Scarecrown was initiated by the choreographic poetry, videos and costumes by Helsinki based artist Essi Kausalainen.
18.-19.1 at 20.30
Juli Apponen (FI / SE): Life is hard and then you die - part 3
Juli Apponen is Swedish-Finnish artist and this is an autobiography of a body. Because of the performances nature, it is unavoidably also about identity. It will satisfy your curiosity, possibly more than you even wished for.
25. & 26.1 at 19.00
Mathias Ringgenberg (CH): PRICE — Can't Say Much About Anything That's New
The performer PRICE (a person adapted by artist Mathias Ringgenberg for his performances) explores the emotional conditions of contemporary life, engaging questions of identity and affect in a disorientating age defined by globalisation, neoliberalism, and the increasingly central role of the internet in shaping communication, emotions, and subjects.
25. & 26.1 at 19.00
Renée van Trier (NL): All Can Be Softer
As a sound performance by the Dutch musician and performer Renée van Trier, All Can Be Softer is deafening, shameless, often excessive, and at times repulsive, and should be approached with caution. This intrepid adventurer is not afraid to let silence, insidious and frightening as it may be, into her superlative world.
8.-10.3 Thu-Fri at 20.00, Sat 19.00
Orfee Schuijt (NO): Shaking The Libidinous
Shaking the libidinous looks at the intertwining of choreography, the erotic, and context through performative practices. The piece combines a sound and video installation and a movement score for three dancers. It reflects upon the conventional roles and dramaturgy of sex, and pursues an abstraction of libido through text editing and choreographic methods: re-occupying a sensuous and erotic field from a feminine point of view. It is a performance by Oslo-based artist Orfee Schujit.
8.-10.3, perofmance on Sat at 20.00
The Disengaged Free Jazz Orchestra (SE)
The Disengaged Free Jazz Orchestra is a durational performance by Swedish artist duo Maria Stiernborg and Kajsa Wadhi. They come to Mad House with their 72-hour survival bag to make plans, plans, plans to escape. The performance takes place in Mad House and concludes as a performance on Saturday 10.3.
24.3 at 19.00, 25.3 at 15.00
Sarah van Lamsweerde (BE): 80 Words
80 Words is a project by Belgian artist Sarah van Lamsweerde about what happens to a language when there are only 80 words to speak it with. Are words still a reliable currency, now that "freedom of speech" suffers from heavy inflation? What happens to the imagination when communication is reduced to the minimum? Can (self)censorship be a good thing? Will scarcity reactivate us?

24.3 at 20.15, 25.3 at 16.15
Alma Söderberg (SE): Nadita
Nadita means 'small nothing' in Spanish and it's also the title of the solo work by Swedish artist Alma Söderberg's. Her body and voice serve as the instruments that produce a small nothing.

*Curating team of Mad House Season 5: Sonja Jokiniemi, Mikko Niemistö and Elina Pirinen

Mad House is a platform for live art and other experimental performing arts. The home of Mad House is located in Suvilahti, Helsinki but its activities are presented where they are needed. For the spring of 2018 the Tiivistämö building in Suvilahti works not only as an international stage for performing arts and performance art but also as a Mad Bar. The bar is licensed by restaurant Juuri and its interior designed by Fargo Vintage.

Tickets 15€ / 10€ / 8€ unless stated otherwise. Tickets from lippu.fi >>>
Season ticket includes entrance to each performance during the 5th Season (1 ticket per art piece), except Gnab Collective's Hamlet private.
Share: