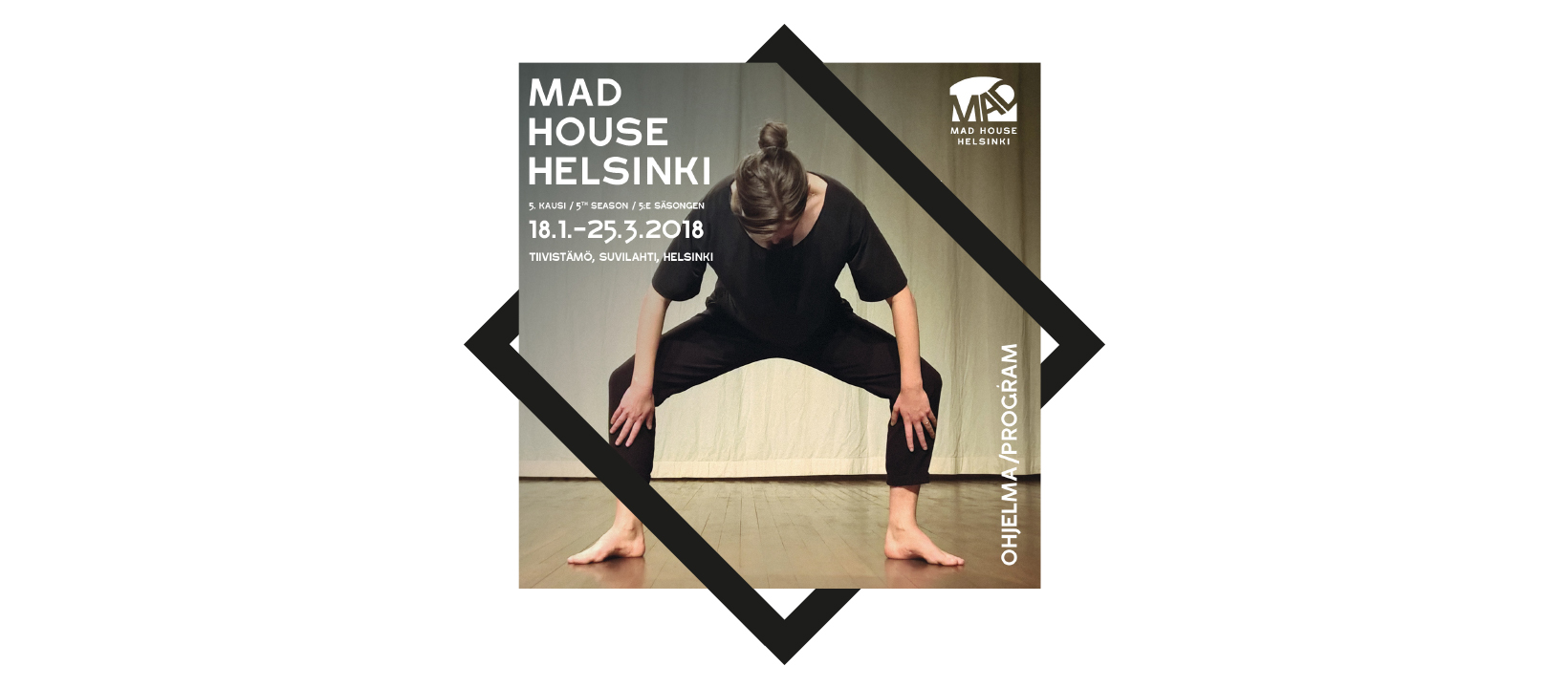 The 5th season of Mad House Helsinki brings current performing arts to Helsinki in the beginning of 2018
The building blocks of identity. The requirements of this time that appears also as unreasonable. The power of words. The possibilities of technology. Human needs, desires and fears. The Finnish nature. As an art form, liv art reflects and comments today's actions, streams, thooughts and vibes, and these elements comprise the main program of the next season of Mad House.
The 5th season of Mad House takes place in Suvilahti, Helsinki from January 18th to March 25th. The programme has been curated by artists Sonja Jokiniemi, Mikko Niemistö and Elina Pirinen.

18.-19.1 at 19.00
Every house has a door (FI / US): Scarecrow *PREMIERE
Every house has a door (founded in 2008 in Chicago) is a group by the internationally renowned artists Lin Hixson and Matthew Goulish. Scarecrown was initiated by the choreographic poetry, videos and costumes by Helsinki based artist Essi Kausalainen.
18.-19.1 at 20.30
Juli Apponen (FI / SE): Life is hard and then you die - part 3
Juli Apponen is Swedish-Finnish artist and this is an autobiography of a body. Because of the performances nature, it is unavoidably also about identity. It will satisfy your curiosity, possibly more than you even wished for.
20.1 at 19.00
Helsingin Feministinen Salaseura (FI): Treffit 2.0
The Feminist Secret Society of Helsinki (HSF) is an art collective interested in feminist issues. The HFS produces performances and other output in varying ensembles, this time in Finnish.
25. & 26.1 at 19.00
Mathias Ringgenberg (CH): PRICE — Can't Say Much About Anything That's New
The performer PRICE (a person adapted by artist Mathias Ringgenberg for his performances) explores the emotional conditions of contemporary life, engaging questions of identity and affect in a disorientating age defined by globalisation, neoliberalism, and the increasingly central role of the internet in shaping communication, emotions, and subjects.

25.1 at 20.15, 27.1 at 20.15
Mira Kautto (FI): House of no hope
House of no hope is a solo born from the desire of Helsinki-based dance artist Mira Kautto to spend time with the weltschmerz/melancholia that she has experienced for as long as she remembers.
25. & 26.1 at 19.00
Renée van Trier (NL): All Can Be Softer
As a sound performance by the Dutch musician and performer Renée van Trier, All Can Be Softer is deafening, shameless, often excessive, and at times repulsive, and should be approached with caution. This intrepid adventurer is not afraid to let silence, insidious and frightening as it may be, into her superlative world.

3.2 & 3.3 at 19.00
Punch Up! - Resistance and Glitter
Punch Up! -club brings together the hottest names and sharpest minds in stand-up, burlesque, and drag! Each evening's program is provided by Jamie MacDonald, Miss Vinyl Envy, Juuso Kekkonen, and their awesome guests.

7.-10.2 Wed-Fri at 19.00, Sat at 16.00
Nature Theatre of Oblivia (FI / DE)
Nature Theatre of Oblivia is a live performance and an augmented reality (AR) work, where Oblivia creates a Finnish forest, its plants and animals on stage. Oblivia is known for its unique practice that merges the boundaries of genres creating minimalistic, philosophical and funny performances.

15.-17.2 at 18-21 (The audience is welcome to enter and exit the performance freely. Free entry.)
Katri Kainulainen & Maximilian Latva (FI): Globus Hystericus
LIST OF PHOBIAS is the performance art project by artists Katri Kainulainen and Maximilian Latva in 2018. In Mad House we experience the three day long globus hystericus (the sensation of having "a lump in the throat", a classic sign of hysterical neurosis, and a psychosomatic disorder that suggests a physical problem but is actually an expression of a psychological conflict or need).
23.-24.2 at 19.00
Antti-Juhani Manninen (FI): Assholes
Assholes is sincerely naive performance by Turku-based puppetry artists. It leaves all the room for the performer - a human being that uses its body and voice - with objects, materials and puppets. It is like a light and merry state of continuous change, a sort of multidimensional gift, a soft package from a longing lover to another, from us to you.

28.2.–2.3.2018
Kaiken keskus (SE/FI/AU/DE/NO): Constitutive Meeting of The AI Party (FI)
THE AI PARTY establishes a new political party led by an artificial intelligence. Bringing together artists, performance-makers, and AI researchers, the initiative will focus on the legal formation of an actual political party in preparation for a series of online and public events. Bases on concept by Bombina Bombast (SE), Kaiken keskus (FI), Triage Live Art Collective (AU/DE) & First Kiss Productions (NO)

8.-9.3 at 19.00
Niko Hallikainen (FI): Blue Exhaust *PREMIERE
Blue Exhaust is writer and sound designer Niko Hallikainen's first solo work that transforms the loneliness of a tired body into choreography that moves in sound and in language. The performance claims space for a shared song, to which all the lonely are dying. On stage Hallikainen is accompanied by Kristian Palmu's light design and a bunch of void.

8.-10.3 Thu-Fri at 20.00, Sat 19.00
Orfee Schuijt (NO): Shaking The Libidinous
Shaking the libidinous looks at the intertwining of choreography, the erotic, and context through performative practices. The piece combines a sound and video installation and a movement score for three dancers. It reflects upon the conventional roles and dramaturgy of sex, and pursues an abstraction of libido through text editing and choreographic methods: re-occupying a sensuous and erotic field from a feminine point of view. It is a performance by Oslo-based artist Orfee Schujit.
8.-10.3, perofmance on Sat at 20.00
The Disengaged Free Jazz Orchestra (SE)
The Disengaged Free Jazz Orchestra is a durational performance by Swedish artist duo Maria Stiernborg and Kajsa Wadhi. They come to Mad House with their 72-hour survival bag to make plans, plans, plans to escape. The performance takes place in Mad House and concludes as a performance on Saturday 10.3.
16., 17., 20. & 21.3 at 19.00
Honkasalo-Niemi-Virtanen (FI): Nature Morte *PREMIERE
Nature Morte is a part of a series of works. The starting point was an ancient Iron Age water burial ground, Levänluhdan lähde, located in Ostrobothnia. In the performance, the Helsinki based collective Honkasalo-Niemi-Virtanen investigates the body and the face of a prehistoric being that has been unearthed in a lake, as well as the surrounding landscape.
24.3 at 19.00, 25.3 at 15.00
Sarah van Lamsweerde (BE): 80 Words
80 Words is a project by Belgian artist Sarah van Lamsweerde about what happens to a language when there are only 80 words to speak it with. Are words still a reliable currency, now that "freedom of speech" suffers from heavy inflation? What happens to the imagination when communication is reduced to the minimum? Can (self)censorship be a good thing? Will scarcity reactivate us?

24.3 at 20.15, 25.3 at 16.15
Alma Söderberg (SE): Nadita
Nadita means 'small nothing' in Spanish and it's also the title of the solo work by Swedish artist Alma Söderberg's. Her body and voice serve as the instruments that produce a small nothing.
18.1., 25.1., 1.2., 15.2. & 8.3.2018, every performance night at 18.15, 19.00, 19.45 & 20.30 (Note: tickets 25/20€, for one spectator at a time)
Gnab Collective (FI): Hamlet private
Without stage machinery purely by the actor's own strength Hamlet private creates the play's world directly in the imagination of the spectator. Artist Martina Marti takes one spectator at a time to ponder Hamlet's big questions.

Mad House is a platform for live art and other experimental performing arts. The home of Mad House is located in Suvilahti, Helsinki but its activities are presented where they are needed. For the spring of 2018 the Tiivistämö building in Suvilahti works not only as an international stage for performing arts and performance art but also as a Mad Bar. The bar is licensed by restaurant Juuri and its interior designed by Fargo Vintage. The bar has its own programming, which will be published on 15th of December.

Tickets 15€ / 10€ / 8€ unless stated otherwise. Tickets from lippu.fi >>>
Season ticket includes entrance to each performance during the 5th Season (1 ticket per art piece), except Ganb Collective's Hamlet private.
Share: