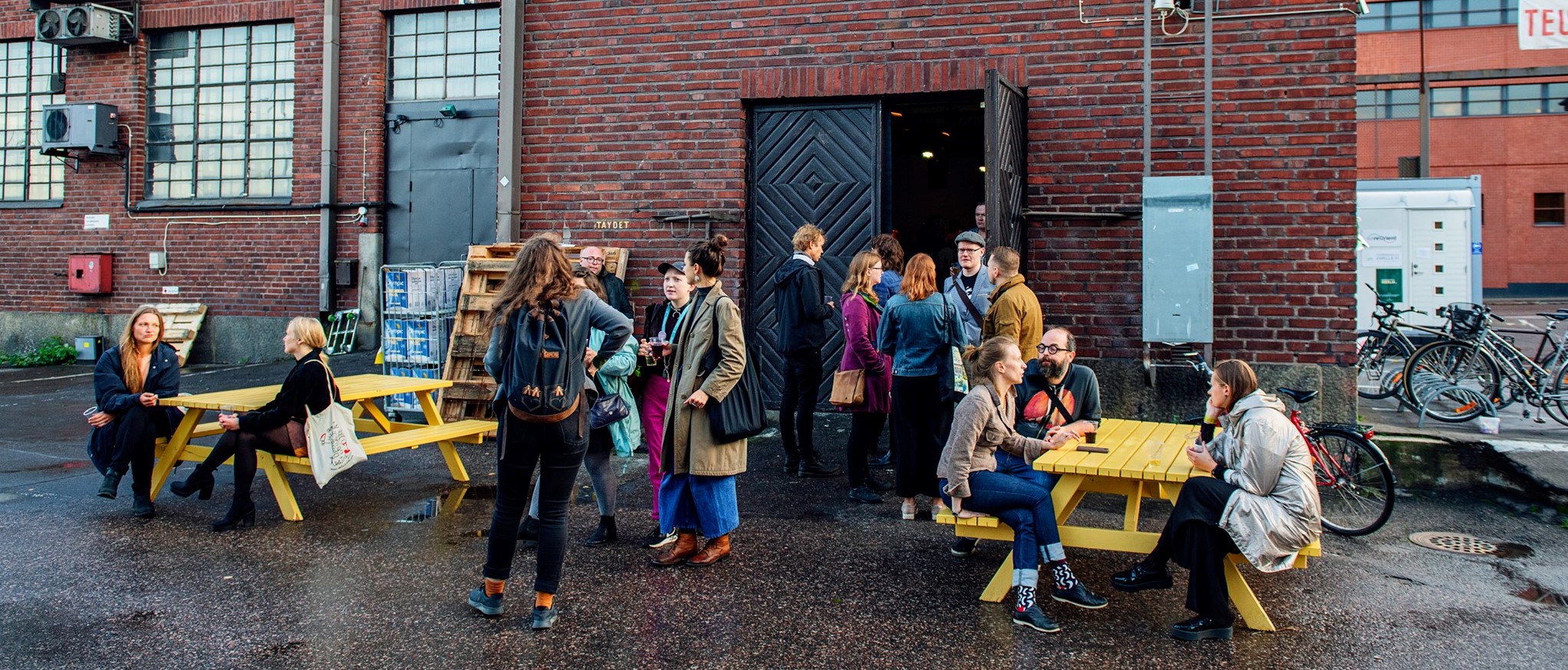 Mad House is building a program which communicates with living urban culture for June-August 2021

Mad House Helsinki has now been operating at the Helsinki Teurastamo area for a year. We are looking forward to at least another year here in the most vibrant place in summer Helsinki.
The Mad House venue is filled with natural light and easy to reach with public transport. The "garage stage" has adapted to the needs of the pieces surprisingly well and the audience has found the venue well. At the same time, the space is challenging due to its temporary nature: it has no separate foyer, the toilets are at the top of the stairs and the soundproofing is almost non-existent. Especially during the summer season, the coexistence of performance activities, with other events taking place in the yard yard, is challenging as the area is a booming as a summer yard for the entire city.
So we are inviting the varied field of performing arts to make proposals that understand the delicacies and challenges of the venue between June and August, or alternatively take advantage of Mad House as their home base. Your proposal can be, for example, a workshop, an installation, a series of discussions, a concept, a larp, ​​a screening, or a more traditional performance, which, however, takes into account the city life flowing into the space. For us, performing arts may stem from different traditions, mixed and matched, and we hope to receive suggestions from artists with different backgrounds.
HOW TO APPLY
Send your suggestion by Friday, November 13. We will contact those proposals we deem appropriate during December.
Suggestions by e-mail: curators@madhousehelsinki.fi.
Post subject: Mad House Summer 2021
Proposal and other possible attachments as PDF. DO NOT write your application directly in the message field.
The proposal must indicate:
proposal plan
the target audience
what time frame would be possible for it
what are your expectation from from Mad House (in terms of space, time and funding)
how the proposal takes into account, or copes with, the nature of the venue and its surroundings
In addition, please briefly describe why Mad House would be the right place for your project. Please note that the search is specifically space- and area-based.
In addition to the venue, we can offer communication and production support, guidance on house technology and its use, as well as financial support.
We look forward to applications from a wide range of artists. So you can be at any point in your career. You may be an art school graduate, but that is not a requirement. You may speak Finnish or some other language, we will find a way to communicate with each other. If you feel Mad House is right for you, your team, and your work or concept, email us! We want to promote a diverse field of performing arts with our resources and constantly evolving expertise.
Sincerely, Heidi Backström, Annika Tudeer and the Mad House production team
Share: